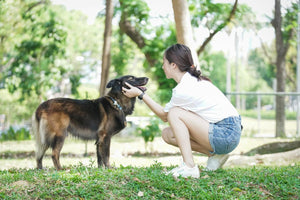 Fundraising Campaign for Exclusive Mongrels
The Social Space x Exclusively Mongrels 🐾
The Social Space has always worked towards supporting underprivileged communities - and this includes our precious furry friends too! As a pet-friendly cafe, it's not rare for us to find lovely pets basking in the sun with their humans at our outdoor seats ☀️ We're always happy to welcome furry friends of all shapes and sizes!
This June and July Holidays, we want to invite YOU (and even your fur babies) to support causes that rescue, rehabilitate and rehome doggies that need a little more help in finding their forever home. We've got a lot planned out to make this campaign not just meaningful, but also paw-somely fun for you!
We will be working with Exclusively Mongrels 🐾, a non profit organisation that specifically focuses on rehabilitating and rehoming stray mongrels - working as the bridge between various organisations, fosterers, and adopters. Exclusively Mongrels was founded by three dog lovers, all with the same aim of raising awareness about the circumstances of mongrels in Singapore.
What are mongrels?
Simply put, mongrels are mixed-breed dogs. As stray dogs continue to procreate and produce offspring, new and unrecognisable breeds come about. In Singapore, mongrels have their own name - the Singapore Specials.
Singapore Specials don't have the best reputation. Many assume that they are dirty and/or aggressive and this harmful perception toward these dogs only decreases the likelihood of them getting the help they need. Mongrels are also less likely to be adopted due to the negative stereotypes many have of them, which is what Exclusively Mongrels is trying to combat. You too can play a part in helping these dogs find a loving home for the rest of their dog years!

To learn more about Exclusively Mongrels, visit their website and their Facebook page for more!
Dine-in and support our cause!
Spend $30 at our cafe while dining in with your pet and we'll donate 10% to Exclusively Mongrels!
Plus receive a FREE goodie bag filled with dog treats, accessories and vouchers from our awesome partners!
Limited goodie bags available - while stocks last!
RESERVE A TABLE
❤️ Virtual Adoption Drive ❤️
Why go to a pet shop when there are homeless puppies who need your love? Singapore has hundreds of mongrels in need of homes. If nobody adopts them, they get put to sleep after a life on the streets. These guys deserve better. They deserve a roof over their heads, proper food and more belly rubs.
Adopt to give them a better life.
Step 1

Fill up the interest form below with The Social Space to get connected with Exclusively Mongrels.
Step 2

Fill up Exclusively Mongrels' adoption form.
Step 3

If your home environment is suitable for the dog, an introduction will be arranged.
Step 4

The dog joins you for a 2-week homestay to see if your home is suitable.
Step 5

If all goes well, the adoption is finalised and you can welcome your furbaby into its forever home!
Interested to adopt one?
Fill up the form and we will connect you with the shelter.
Support Our Fundraising Partners!
Here's a list of our paw-some conscious partners who have committed to support our fundraising efforts for Exclusively Mongrels.
PAWFOO
Pawfoo is dedicated to giving your furry friends nutritious and tasty treats that do good for the environment too. Their Good Dog Cookies are made out of sustainable ecogrub and surplus ingredients from food manufacturers!
⭐ Purchase 2 packs of Good Dog Cookies under the "Exclusively Good Mongrels" bundle from 24th to 30th June and Pawfoo will donate 1 pack to Exclusively Mongrels.
Pawfoo website
BELLY UP
BELLY UP is all about high-quality, natural, and premium treats. They work towards making these treats accessible to paw-rents by sourcing ethically-made ingredients from all over the world!
⭐ Use code "TSS10" during your purchase till 31st July and Belly Up will donate 10% of the sales to Exclusively Mongrels.
BELLY UP WEBSITE
NEKOLOUR
Nekolour is all about luck and prosperity! Known for their iconic wide-eyed portraits of beloved furkids holding the "Gold Koban Chain", each artwork aims to symbolise prosperity for the bearer of the artwork.
⭐ Use code "TSS2023PAIR" to get 10% off your purchase of the "Purrfect Pair" - and Nekolour will donate 25% of the sales to Exclusively Mongrels.
NEKOLOUR WEBSITE
24 & 25 JUNE 2023
DOGGIE DAY OUT @ KRETA AYER
On 24 & 25 June, we held our very first Doggie Day Out at our Kreta Ayer outlet, and we had a bark-tastic time meeting the #FurryFriendsOfTSS!
More than just a weekend of fun, this event was organised in partnership with Exclusively Mongrels to raise funds and increase awareness about their efforts to rescue and rehome local stray mongrels.
READ OUR BLOG