Written by our regular customer, Payal Morankar. Read the original post here.
The record shows
I took the blows
And did it myyyyy way!
Yes, it was my way…
Hey, hi there!
I've embraced, with no apologies, a cliched writerly practice: going on solitary dates to read or write at different cafés around the island city. The place where I am now with this Frank Sinatra number playing though — The Social Space — is my usual haunt for when I seek familiarity over novelty. Working out of this café is like re-watching F.R.I.E.N.D.S or 10 Things I Hate About You.
Several roads climb up, roll down or cut through Duxton Hill. Neil Street is one that's lined with high-end restaurants and bars, frequented by pencil heels, shimmery eye shadow, and on some days a hat. Branching off this path is another 'trail,' called Kreta Ayer Road, I take to reach good old Pizza Hut. In doing so is when I first discover The Social Space. Something about this no-frills yet vibrant café calls to me, the reason for which I discern in the process of writing this newsletter.
The Social Space is in fact a multi-concept social enterprise. In addition to its café, there's a fair-trade retail section for sustainable items made by environmentally and socially conscious businesses. There is also a salon that uses non-toxic and cruelty-free products to provide full-suite nail services by underprivileged women in training to become manicurists.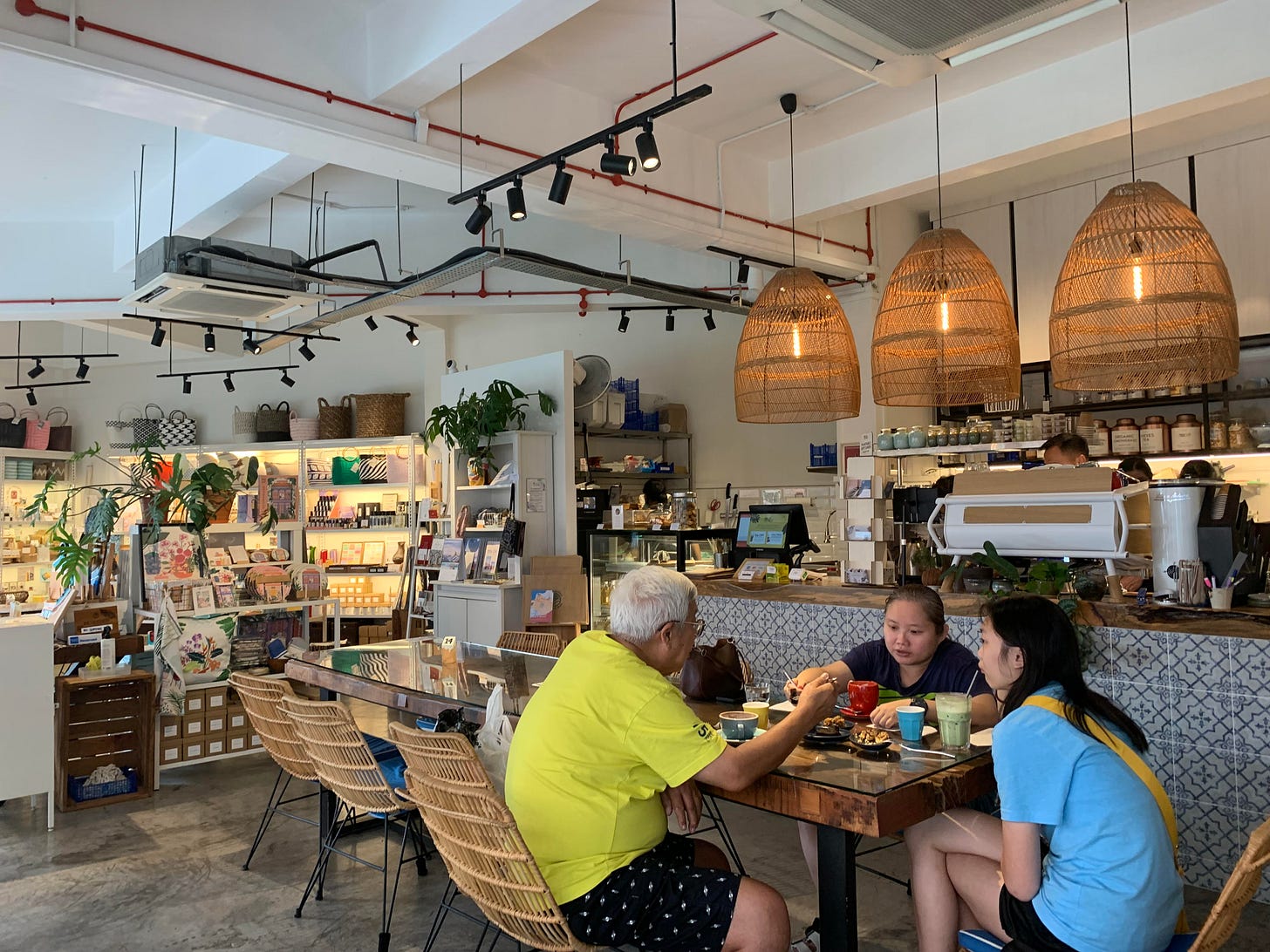 I am smitten! As someone who exercises rudimentary sustainable habits, such as segregating waste, carrying a reusable cloth bag to the market, and shopping mindfully without giving in to consumerism, I feel an instant belonginess with this space.
Ok fine, I admit I could not resist purchasing a colourful, chirpy postcard with a lady seated in a shophouse. I saw myself in that image, what with my move to Singapore still being recent then.
*In small font* I also got myself a little hand-blended lavender aroma called Escape. *Back to normal font* Nothing more, I promise!
Whenever I visit, I usually plant myself at the high top seating against the glass wall overlooking the street. My standard comfort order is the iced cappuccino with almond and oat cookies or mushroom and crème fraiche on a toast.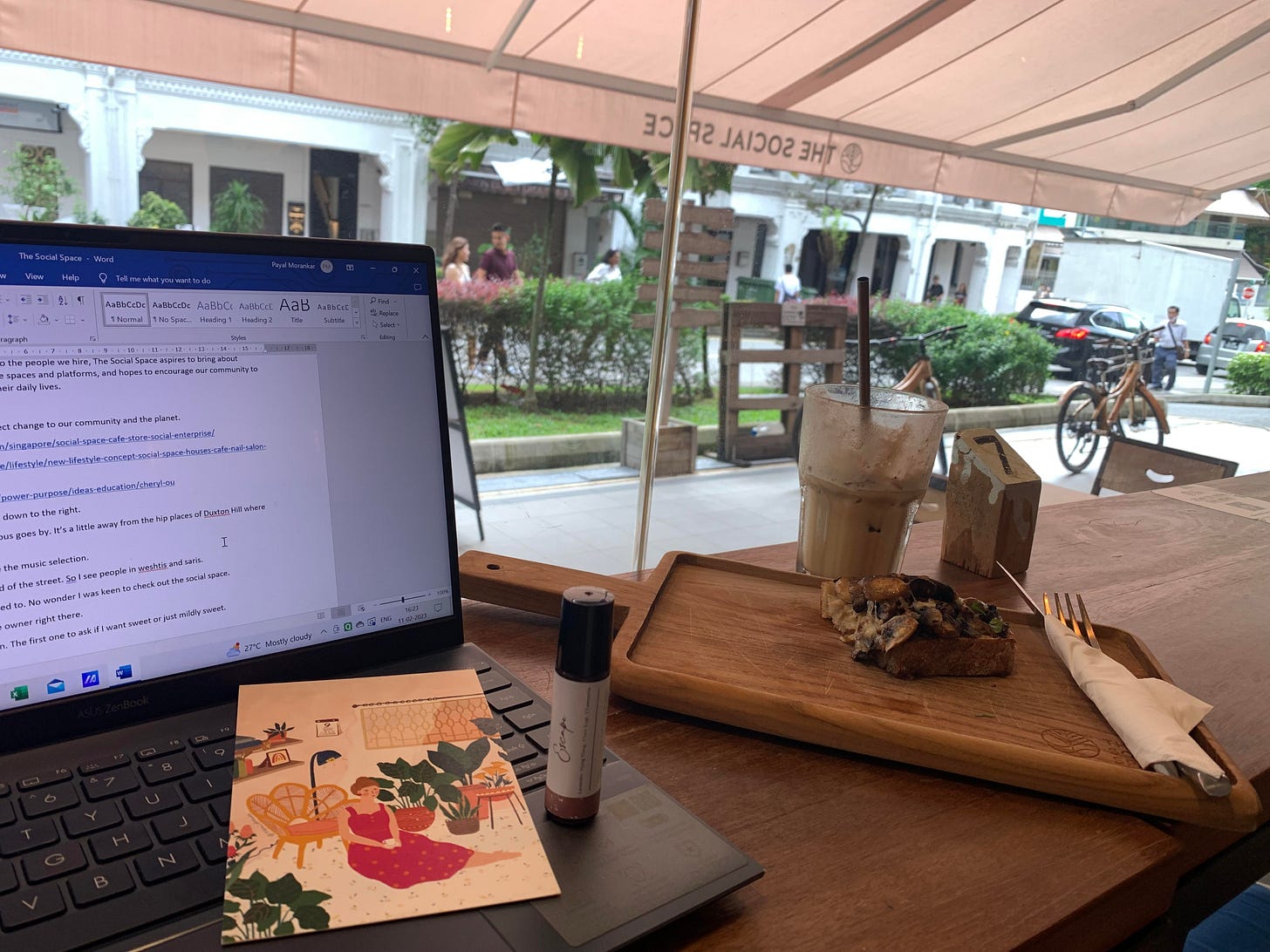 Today as I plan this newsletter, while spying the open-top sightseeing bus and saree- and veshti-clad temple goers, I notice two bamboo bicycles outside the café. I also realise that a gentleman I've seen working behind the café counter so often is actually one of the business owners! I muster the courage to strike a conversation and find out more about this establishment beyond that already covered by the press.
Daniel Yeow quit his job at Singapore Airlines to support his wife Cheryl Ou's vision of starting The Social Space. And their philosophy is to run their business in a manner authentic to them, theeeeeeir way. Get it? :D
For instance, as the partner in the relationship who cooks, Daniel curated the menu with food he prepares for his own family. When I remark on the classy, tasteful music selection, he mentions those are hand-picked evergreen songs which they listen to themselves, instead of anything trendy. And the bamboo bikes? The couple bought those in the Philippines five years ago, and have been using them ever since to commute to work.
"The idea is to cook what we would eat; play what we would listen to; do what we would do for ourselves." - Daniel Yeow
Daniel also says that 60% of their staff is from marginalised communities, and that as business owners they are conscious of the language they use. Like realistically claiming to be a 'low waste' instead of 'zero waste' establishment.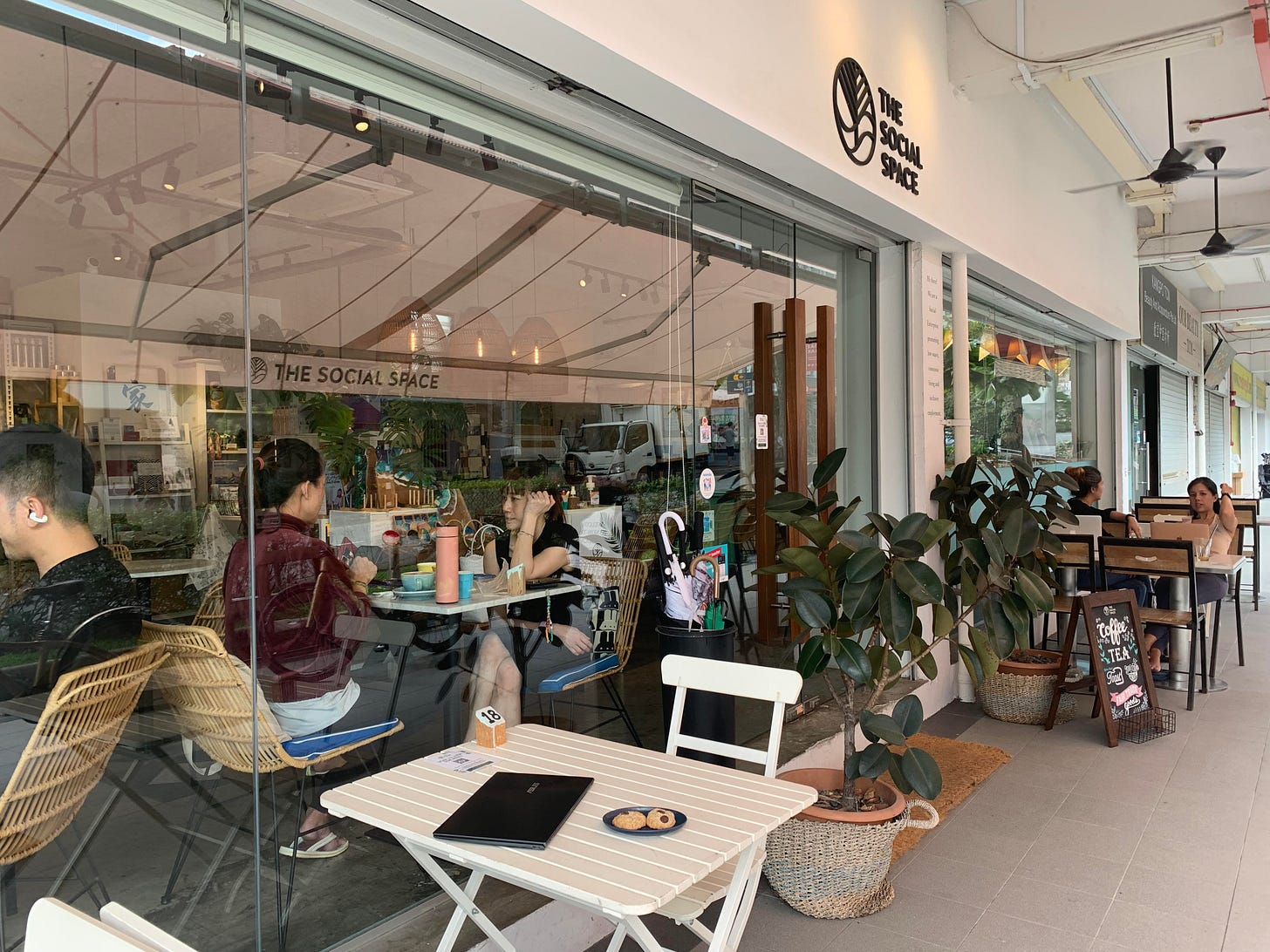 With this conversation, I have the answer to why I've always felt an inexplicable pull towards The Social Space: an alignment with values.
I walk away brimming with inspiration and glowing with pride that I have been associated with this place even as a patron. It is to me just the space the owners envisaged it to be: social, sustainable, sincere, and — most importantly — safe.
Love,
Payal
p.s. The WiFi password is 'be the change'. For real!
---