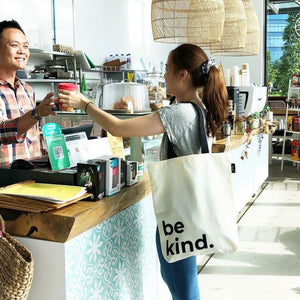 Join The TSS Family
We're always on the lookout for the next #changemaker - passionate individuals who are looking for a chance to use their skills to inspire and drive social and environmental change in our community. With plenty of real-life experience up for grabs, we are offering opportunities that will put you right in the heart of the bustling social enterprise scene.
ABOUT
We creates multi-concept spaces to inspire social-impact champions in all that we do so as to create an economy for good. Our spaces feature a Café, a fair trade retail area, and a nail salon, all promoting greater awareness for sustainability, an appreciation for providence, and more accessible conscious living. 
MISSION
From the choice of eco- and socially-conscious products we use and sell, to the services we offer, down to the people we hire, The Social Space aspires to bring about serendipity through our creative spaces and platforms, and hopes to encourage our community to be more socially conscious in their daily lives.
VALUES
We truly believe that it is possible to build a business that was profitable, scalable and genuinely made a difference to people and planet. The Social Space wants to use our position as business owners and employers to make a real impact and provide training and employment to those who need it the most.
STAFF MEALS

We provide healthy staff meals for both full time and part-time staff
FREE SPECIALTY COFFEE

As many coffees are you'll need to get through the work day
PRODUCT DISCOUNTS

Save money on fair-trade purchases, from homeware to lifestyle to accessories, for yourself or loved ones with our generous staff discounts.
MEDICAL BENEFITS

We provide outpatient medical benefits for full-time staff and their dependents
SAVINGS PROGRAMME

We offer an Employee Savings Programme with interest perks to encourage staff to set aside a portion of their salary for rainy days.
HEALTH INSURANCE

We provide hospitalization insurance for full-time staff after working for one year.
PERFORMANCE BONUS

All staff are entitled to a yearly performance bonus to help motivate you and give a tangible ownership stake in your role.
MENTAL HEALTH DAY

We offer paid mental health days to allow staff to rest and recharge so you can bring your happiest and most productive selves to work.
Read about the experiences of our past and present Team Members!
View all
Interested in working with us, but not seeing your dream job?
Tell us why you would be a great addition to our team:  HELLO@THESOCIALSPACE.CO